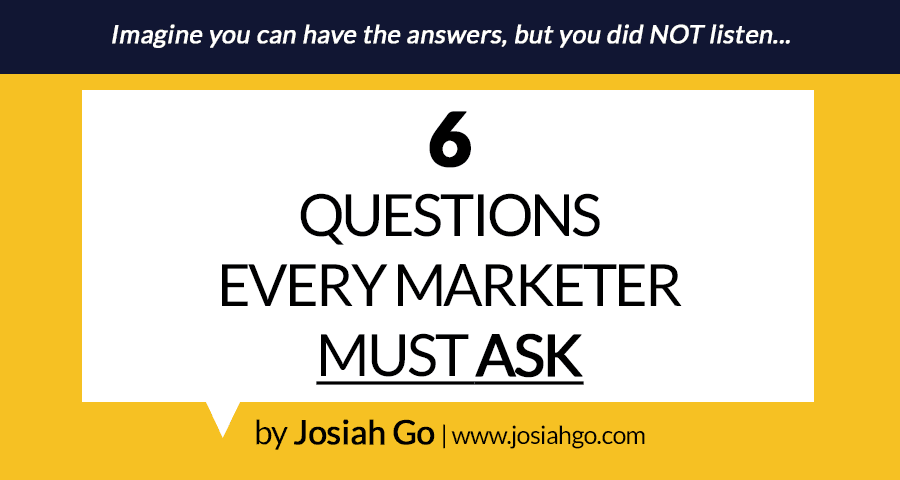 There are 6 questions every marketer must ask, and I will tell you that and if you cannot answer any 1 of these questions, you are at risk.
Question # 1 : How do you discover new truths? How do you convert these truths into big idea?
Question # 2 : Do you know what NOT to do when challenging market leaders?
Question # 3 : Do you have a READY tool kit when your competitor attacks you?
Question # 4 : Do you know HOW to find new and sustainable sources of revenue and profit?
Question # 5 : Is your product or service REALLY  in the correct channel?
Question # 6 : Do you know what's happening in the marketing industry? How can you be ahead of the curve?
I am chairing the 10th Mansmith Market Masters Conference and on its 10th year, we have rebooted and reformatted by bringing 35 award-winning marketing rockstars, in 6 in-depth sessions– and we are so blessed because some them are even in competing companies, yet will generously share ideas and tips on the same stage come April 3, 2019. This makes the Market Masters Conference unique—something that you will not see elsewhere!
Each speaker will give opening and closing marketing tips. Together, over 100 marketing questions will be answered, to be moderated by award-winning host, RJ Ledesma. Each session will also feature Digital Transformation.
I would like to acknowledge Lester Estrada, P&G's Country Marketing Director, who gave me the idea of getting our Young Market Masters Awardees together in a conference.
I would also like to give huge thanks to omni-channel and data analytics expert Dr. Nicco Tan of Resorts World Malaysia and DKSH Singapore Global Lead for brand and channel marketing Anson Dichaves who will be flying in from Malaysia and Singapore, respectively, to be part of the Marketing Conference of the Year.
Your team would not want to miss this once-a-year learning event! See you on April 3, 2019!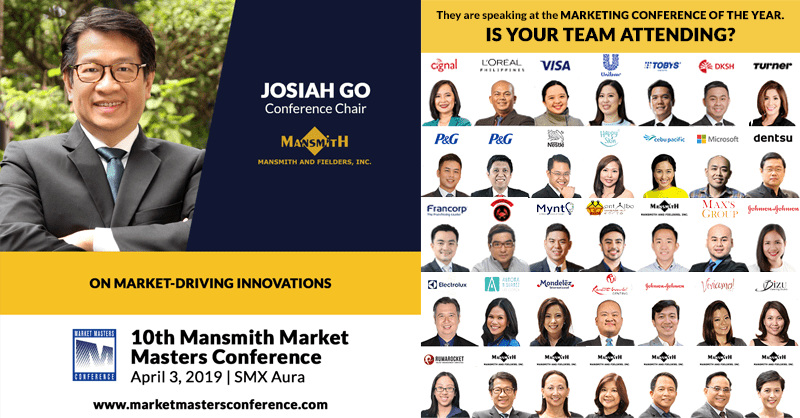 ***
FOR REGISTRATION :
Group rates are available but for the first 100 companies only. Go to www.marketmastersconference.com to REGISTER or call Tessa at (02) 584-5858 / 0917-626-0724.