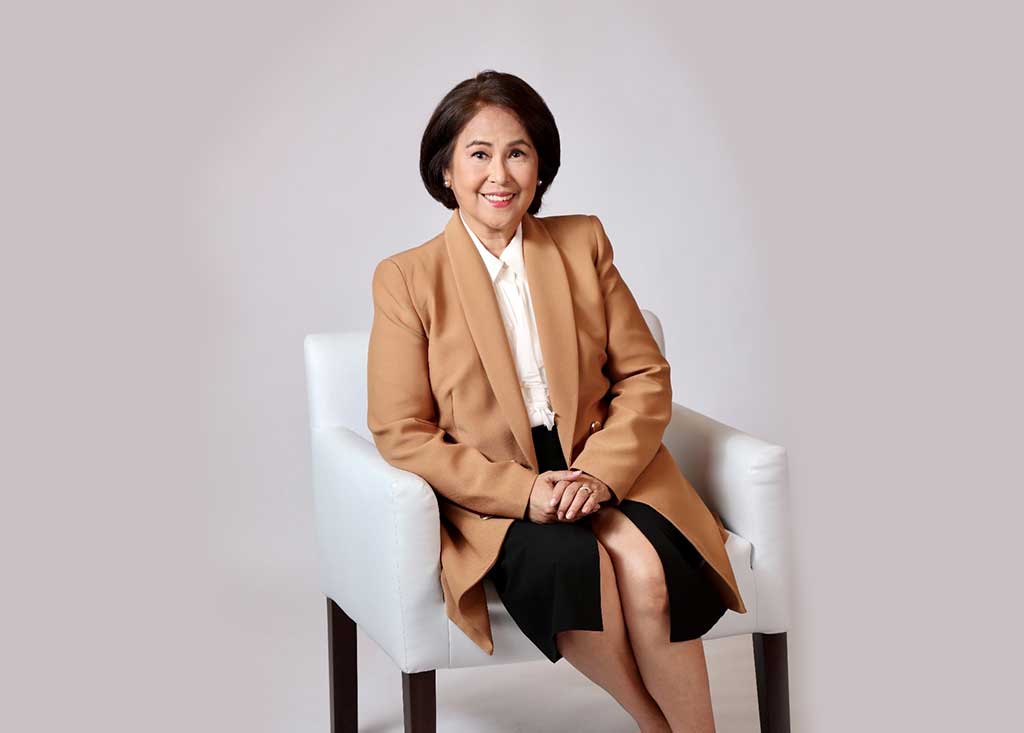 Insular Life has been operating since 1910. It is the first and biggest Filipino life insurance company and the only mutual company in the Philippines, with total assets currently over P143 billion. It markets various insurance products (personal, life, educational, health, retirement, group, business) alongside investment and rider options.
Nina Aguas is the executive chairperson of Insular Life. Prior to Insular Life, Nina spent 30 years in senior management roles at major financial institutions such as Citi, ANZ and PBCom. In this interview, she shares her thoughts on what goes into rebranding an institution. 
Q1: What were the keys to Insular Life's stability?
A1: I think there are 3 key factors to Insular Life's stability — trustworthiness, ability to stay relevant with the times, and adherence to its core values.
Insular Life has always taken its fiduciary responsibilities and obligations to its policyholders very seriously, always ensuring that the company has a healthy balance sheet to be able to fulfill its contractual obligations when the need arises. It is a company that is most trusted and dependable, two strong qualities that any life insurance company should have. This we adhere to, today and well into the future. It has also changed with the times quite successfully, that is why even after 110 years, the company remains strong to serve the financial protection needs of Filipinos. And finally, we never lose sight of our purpose and core values. The starting point is always our sense of Purpose and Stewardship. Generating profit is of course important, and we need scale/ to be financially stable and to create impact. But our purpose does not end there. Quite the contrary, our focus is on the difference we make in the broader society. We help in developing the local economy and our communities and continually looking for ways to offer people life chances, looking after them, first, as our fellow countrymen, and second, as part company owners, but never as mere consumers.
Q2: Insular Life was rebranded as InLife two years ago. What changes have you experienced so far?
A2: As you know, Insular Life is an iconic brand. It has a long and rich history that resonated well with the older generation of Filipinos. We wanted to refresh it so that the younger generation will also create an affinity to this Filipino heritage brand. More importantly, we were embracing a bold direction for the company as it took on the challenges of digital disruption and a growing millennial workforce and customer base.
And so, part of the refresh is to shorten our name to 2-syllables "InLife" for easy recall, use vibrant colors for the Philippine eagle in our logo, change the look and feel of our offices, relax the corporate attire of our office personnel. Underpinning these physical manifestations of the refreshed brand is our purpose, our commitment as an institution, captured by the tagline, "A Lifetime for Good". We define ourselves by the good we bring to our policyholders, the bigger community, and our country.
Today, the refreshed brand represents the new realities of an agile organization with a younger and digitally adept workforce. Our distribution channels are attracting younger financial advisors and agency leaders, and our bancassurance business in partnership with Union Bank is picking up, and soon we will have a full-blown e-commerce business as well. So, we have the capability to deliver insurance and financial solutions appropriate for our market, in a manner that is most convenient for them.
We have reorganized and revitalized the organization, adding new key drivers of change such as Business Transformation and Operational Excellence Division and Data Analytics Division. With the use of data analytics, we can further strengthen our capability as a lot of our processes and decisions will now be data-driven. All these are aligned with our strategy of revitalizing today and building the business model of the future.
Q3: During the start of the COVID-19 pandemic in 2020, Insular Life provided free accident insurance, with COVID-19 coverage, to 110,000 non-medical essential workers. Known as the Chain of Protection (CHOP), what was the big idea behind this and how did you screen recipients? How are claims so far?
A3: The inspiration for the Chain of Protection came from the many economic frontliners belonging to the essential industries who were allowed to continue to report to work even at the height of the pandemic. We know that majority of them do not have adequate insurance, or had no insurance at all. Once they pass the simple health questionnaire, they will get the free coverage and hospitalization benefits, for a limited term of 45 days. Then they can pass on the link to the free insurance to their family and friends who also belong to essential industries, thus, the passing on forms a "Chain of Protection". The number 110,000 is a multiple of 110, the number of years that Insular Life has been in existence. Of the 32,000 who have been covered so far, there has been only one claim of hospitalization, and no death claims.
Q4: What achievement are you proudest of while working with Insular Life?
A4: I am most proud of the fact that we have been able to give InLife a global platform with our partnership with the World Bank. I sit as a member of the Advisory Board of the World Bank Gender and Development and this allowed me to identify which priority area our company can commit to, not just as part of our corporate social responsibility, but of our sustained business and social strategies.
The International Finance Corporation (IFC), a member of the World Bank Group, presented to me a report entitled "She for Shield: Insure Women to Better Protect All," highlighting the huge financial and protection risks of the underserved and unserved women segment coming from the emerging markets, including the Philippines.
 Presented with these realities and being true to our Mission of delivering a "Lifetime for Good", we deemed it our calling to lead this very important undertaking.
As a Filipino financial institution that has been serving the Filipinos for 110 years now and our fidelity to the cause of the Filipino people, we embraced this golden opportunity to do our part in addressing the financial inclusion agenda for women in our country. The result is the InLife Sheroes Movement. It rests on four pillars of financial literacy, health and wellness, access to business networks and women-specific solutions. The InLife Sheroes has been recognized locally and by the IFC which documented our journey in The Case for Insuring Women for a Better Tomorrow. (https://pressroom.ifc.org/all/pages/PressDetail.aspx?ID=24700)
I am also proud of our recognition for four straight years by the regional award giving body Insurance Asia Awards. We have been honored with being the Domestic Life Insurer of the Year for the Philippines from 2017 to 2020.
On the governance side, we were recently recognized by the Institute of Corporate Directors (ICD) with 4-Golden Arrows the highest level given in 2020, for our good corporate governance practices, based on the ASEAN Corporate Governance Scorecard (ACGS). This is our third award in three years, a concrete recognition of our continued success in our journey to achieving excellence in corporate governance.
Q5: There are so many insurance companies in the Philippines, and some are expanding very aggressively. Other than a mutual life company co-owned by your customers, how do you want Insular Life to be differentiated and what do you want it to be known for during your watch?
A5: It's been said of InLife that we march to the beat of a different drum. In an industry that in a way equates excellence with how much a company takes from its customers, i.e. premium rankings, we at InLife take a different view. We would rather differentiate ourselves in terms of how much we give; how we are able to provide the best possible Customer Experience, so that as many Filipinos possible may live longer, healthier, and more prosperous lives. How we would want to be known for can be summed up in a Filipino word that has no direct English translation: "Malasakit." So however our customers wish to connect – personal, digital, virtual — this exceptional Filipino trait of "malasakit" should come through.
********
Josiah Go is chair and chief innovation strategist of Mansmith and Fielders, Inc. The 13th Mansmith Market Masters Conference is accepting registration through www.marketmastersconference.com