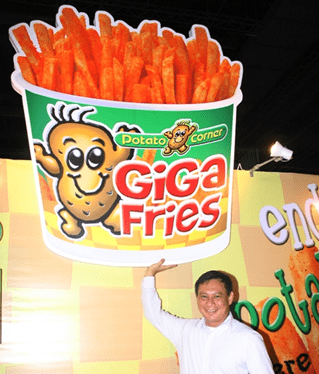 Q1: Fast food companies are already selling French fries bundled with their value meals. What made you decide that there is an opportunity to sell fries separately in kiosks?
I think the idea or opportunity we saw was that there was a business selling snacks to people who are mobile and who need a companion food. That is why we, Potato Corner, are making sure our core product, flavored French fries, is sold in a manner that can be eaten while walking and standing. There was good business in flavored popcorn, which one of our stockholders was into before Potato Corner came into being, and few food cart businesses in malls.
Q2: Please tell us the opportunity leading to your international expansion.
Our new franchisees in the Philippines and our franchisees in Panama, Indonesia and USA were all loyal customers when they were teenagers in the Philippines and now that they are of age and wanting to go into business, they chose to get what they were crazy about when they were young – Potato Corner. They are not Filipinos but locals in those countries who studied for a short time in the Philippines and loved our flavored fries. Consistency / integrity in product and brand image are most important.
Q3: Do your French fries have the same target market as those of fast food? How about your international markets, how different are your customers abroad vs. those in the Philippines?
We are lucky we chose French fries as the core product, which is a worldwide staple now for kids and kids at heart/mind. Our target market are kids who are cool.