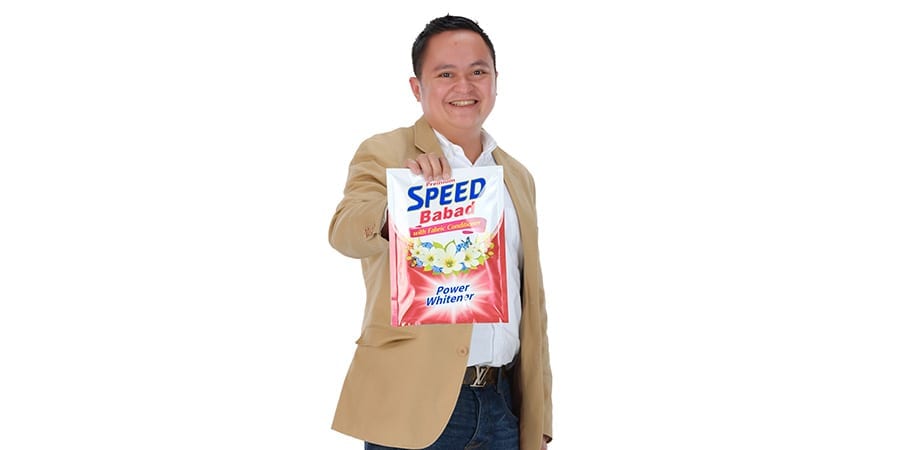 Joseph "Chay" Cruel is the Managing Director of Wellmade Manufacturing, makers of Speed detergents, Speed Power Duo, Sulit, and Budget detergent bars, Winrox bleach, and Select Soy sauce and vinegar . He was formerly Vice President of Business Development and International Business of Asia Brewery, Inc. (ABI). Prior to this, he launched C2 Cool & Clean, the first RTD tea entrant in the market, in his capacity as Senior Product Manager of Universal Robina Corporation (URC) where he won the 
Mansmith Young Market Masters Awards in 2006. He talks about new product 
development in this interview and will share more marketing tips in the 1st Mansmith Brand Summit on July 9, 2019 in RCBC Theater, Makati.

Q1: How can marketers identify opportunities in their product development process?
A1: It will always be recommended to review the brand portfolio of your current products and compare with competition. Another important aspect of new product development process is for your company to review its Brand Architecture.
How do the NPD team decide to extend an existing brand or launch a totally different brand ? The brand name will play a big role in the success of the new product. It would good to create a visual business map of opportunities for your new product plans. By doing this, the marketing can identify gaps or opportunities in their new product development. This will primarily
aid also on the prioritization of product concepts and development based on the
identified business size and level of potential upside if the NPD is successful. 

Q2: What metrics in new product development should be adopted to assure optimal performance?
A2: I would recommend to focus on the following core areas : 
Concept testing and Idea Generation Screening – Focus on testing ideas and screen them based on an early consumer concept test. This will save the company resources before any product development that will entail organizational resources from Research and Development , Technology and plant trial runs.
Communication and Branding – Based on my experience , most of the unsuccessful
product launches I have witnessed are weak on product relevance , wrong insight and even wrong brand.
Distribution and Point of Purchase – This will play a critical role in the success of any new product. It must be clear where you want your new product to be available in your intended target market. Nielsen used the term – " findability " which is aligned on your product positioning. For example , If you will launch a new beverage product – Fitness water, where do consumers look for your product ? In the water section or sports drink section ? Consumers will categorize your product based on how they see your product.
Test Market Area – If your new product has potential cannibalization in your portfolio, It would be best to isolate a test market area and analyze consumer acceptance and trade acceptability .

Q3: What are some common mistakes that should be avoided in managing new product development?
A3: Identifying the real consumer insight – sometimes new product development are triggered by investment in new equipment and technology in which the new product aims to change consumer behavior or perception. This will affect the products positioning and relevance in the mind of the consumer.
Positioning must be clear and based on your real product. – Distribution muscle 
can make your product available in the trade, but if your new product lacks awareness and there is confusion on your production positioning, probability of failure for your new product will be high.
New Brand and Brand Extension Trap. – If you are launching a new product in a new
category in which you don't have any credibility in your portfolio it is better to launch a new brand and invest in building your brand equity. Me too products that offer no new benefit and no product improvement from the current players in the market must be launched with a stronger brand story to generate trial and differentiation. This is also why I believe in brand licensing can work in your company if you have a good portfolio
and product mix. On brand licensing, you increase the probability of your product success by anchoring your new product with a strong brand that has credibility in the category that you want to attack or enter. 

Q4: Many consumers want more products, better quality, at lower prices. Can you give some tips on how to conduct more insightful market research for new product or service opportunities?
A4: Always be on a look out for new product launches in your category. Get
samples and do internal testing and possible focus group discussion. If your NPD team can attend trade fairs and events, it's a good venue to get new product ideas and concepts that can be applied in your company. 

Q5: What is the insight behind Wellmade's Speed Power Duo brand?
A5: Detergent bar is still the most 
economical way to wash your clothes, so to drive innovation in the category – 
Wellmade launched the first 2-in-1 – Fabric conditioner bar (pink side) and whitening bar with optical brighteners (white) on the other side . Positive feedback with consumers and drives growth in our portfolio. 

---
Mansmith and Fielders is having their 1st Mansmith Brand Summit on July 9, 2019.
6 award-winning brand builders will be sharing in-depth, actual industry experiences and answer your questions about brand building at the 1st Mansmith Brand Summit on July 9, 2019! REGISTER NOW : http://bit.ly/RegisterMBS2019. For group rate and other inquiries, reach Tessa / Cath at (02) 722-2318 / (02) 412-0034 / 0917-626-0724 / info@mansmith.net
#MansmithBrandSummit2019