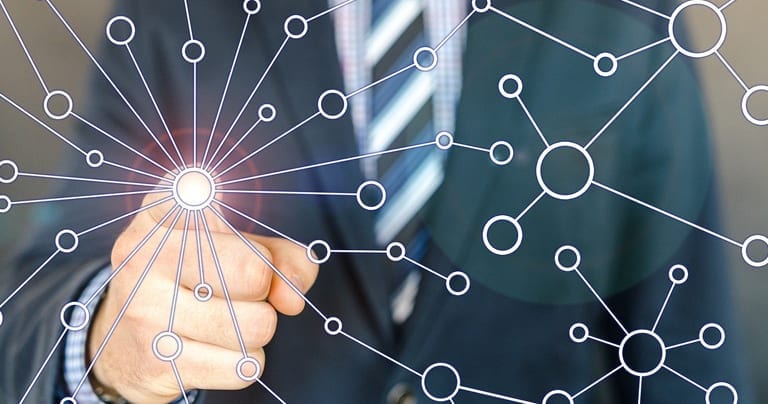 During and post COVID, many will likely lose their jobs or see their companies go bankrupt. It does not take a genius to figure out that two months of no revenues is about 17% of total expected revenues for the entire year. Many companies do not even make 5% return on sales, much less 17%. The smaller and newer companies will be hardest hit as their cash flow is typically just a few weeks. Whether getting employed again or looking for alternative income sources, networking can help and should always be part of one's professional resource stash. Who you know and how to connect with this network is as important as what you know and what you can offer. And because of social distancing, the nature of networking is now different — no longer will it be about exchanging calling cards, having a face-to-face conversation or having coffee together – all polite ways (as we know it) of starting an acquaintance, or a long term win-win relationship. While some connections in the past were already being done via social media, networking practices will now be mainly online – and it is time to use these tools well.
It is important to remember that there is a difference between making friends and doing networking. Spending time with friends and networking have two different effects – one is about reconnecting with old friends sometimes just for old time's sake or establishing bonds over common interests outside work, while networking is about building new relationships with new people, for the purpose of establishing win-win professional engagements, such as mutual learning and being able to offer something of value in exchange.
—————————————–
Who you know and how to connect with this network
is as important as what you know and what you can offer.
—————————————–
Here are some realities, to do-list and tips about networking to help people in need to find employment again or to introduce their new entrepreneurial initiatives.
1. Start with your existing network.
Always start with what you already have.
Reality: The more helpful and authentic you have been in all the work you do (whether paid or voluntary), the more likely people will help you (or will want to reconnect with you) when you need it.
To do: If you think you don't have enough people in your network, try to reconnect with those you have not connected with for a long time. Remind them where you have met. This will prompt them you are still around, and if you have a good track record of authentic service, they will remember you for that.
Tip: Try to overcome your insecurities with rejection – expect that some will not have the time to say hello or will not be interested to lend you a hand at all. Remember your goal, it is not the number of "NO's" that matter, it is the one YES that can give you the break you need. Besides, during the ECQ lockdown, many people have had the time to reflect on their life's purpose and might be willing to pay it forward. If they are not at that point in their personal journeys, we need to understand that they may also be in crisis, and so we wish them well. In the meantime, let them be – who knows, they may get back to you with good news afterwards because you treated them well.
2. Seek trust before anything else.
Relationship is two-way and needs to be nurtured.
Reality: Imagine you just met someone in a meeting and that someone tried selling you something immediately? A big turn-off right? That's why you must avoid doing the same thing unless it's a free-for-all marketplace. Years ago, many people tried connecting with me in LinkedIn and then sold something to me immediately. I got curious if I were missing out on a new trend so I experimented doing the same thing myself, and predictably, it was unsuccessful. So don't sell on your initial message. Your goal is to create a relationship and to earn trust instead.
To do: Be an asset to everyone. For instance, you can send a useful article that can benefit the person you just met. This way, you become a relevant resource and it also shows that you follow through and can start or resume a relationship in the right way.
Tip: Be a good social listener and sense what issues are important to the network. If along your expertise, volunteer by asking "How can I help you?" in your conversations with your networking group.
3. The power of network is to be introduced to the network of your network.
Two executives have the same number of people in their network, but their strengths can be different.
Reality: The first executive, whose members of his/her network do not know each other has a superior network compared to the second, whose members know each other. In the former, you can be introduced to their other unique networks, not possible on the second because you will end up meeting the same people.
To do: So make an inventory of your network today – – who can help you find a new job or be customers or even suppliers of your new business venture? If you have difficulty listing down names, time to start planning your activities in a more purposeful way. Refocus toward improving your network, not just making friends. Of course, you want your network to be your friends too, so do take time to nurture trust and integrity.
Groups are important. Do you belong to an exclusive group, or maybe you did in the past but have since overlooked them and this group is now dormant and underutilized in your life? Maybe now is the time to reconnect with these networks as the changing times may bring out search for new value.
Tip: There are always connectors and super connectors – these are influencers with various network groups. You do not want to miss getting in touch with these people. At the right time, tell your connector you are restarting, and ask them who among their network maybe interested or should you be connected to.
4. Strong networks do not happen overnight.
There are different types of network, and each has a different purpose.
Reality: There are 4 types of network groups you should have.
a. An Operational network gives you links to people in your current industry so you can do your job well. Among others, they can be industry associations, local chambers, suppliers, distributors, and customers. If you are a retailer, it can be the Philippine Retailers Association (PRA). If you classify your business as franchising, you can network with people from the Philippine Franchise Association (PFA) and/or the Association of Filipino Franchisers Inc. (AFFI)
b. A Functional network can help you connect with colleagues in the same profession or even another profession. If you are in marketing or advertising, you can do your networking via the Philippine Association of National Advertisers (PANA) or the Internet and Mobile Marketing Association of the Philippines (IMMAP).
c. A Strategic network can give you a head start edge to people who can help attain your long-term vision. Among others, they can be financiers, politicians, or experts in a field you intend to enter in the future. For instance, if you envision yourself building a school after a decade, you need to know educators and administrators who can help you in securing the permits and licenses, in running the school, in complying with curriculum requirements, among other activities.
d. A Personal network can help you grow on a personal level. They can be community service clubs, alumni associations, networking clubs, personal interest groups, or mentors. Examples are Junior Chamber International (JCI) and Rotary Clubs. Like-minded individuals from the organization can offer you a different POV, others can even refer prospects to you since they are mostly not from the same industry to which you belong.
The higher your position, or the higher your ambition, the more types of network you should have. The more connected you are, the higher is the ease to remove barriers and to get things done, especially when push comes to shove! I know of a senior corporate executive who prequalifies his senior HR applicant by asking who the applicant knows from competing firms.
Tip: Do not discriminate on people trying to get into your network. They may be just starting now so be willing to connect with those who have shown honesty and grit – just like when you started. Be approachable. Be humble. Have an abundance mentality.
5. Be in the radar. Be present.
Are you active in social media?
Reality: If you are not in social media, such as Facebook and LinkedIn, you will hardly be able to attract people or do social listening. Registering a social media account totally different from your real or nickname does not count. It can even be taken against you — try asking creditors and they will automatically disapprove your loan application when they see your social media profile lacking transparency in identity, so try not to mess around experimenting with your name in social media.
To do: Be positive in social media. It's ok to be frustrated once in a while (as in once a decade), because we are all human, but try not to be negative to the extent it becomes toxic and adds to the anxiety of people.
Tip: Be known for something. Instead of outbound, you can attract inbound, so if you are an introvert like me, it's less "scary" that people are approaching you instead of you approaching them. You can make the law of attraction work in your favor.
It is important to remember that networking should not about being opportunistic and only showing up when you need people – it should be a continuing practice to establish your capabilities, to build trust on what you can do and offer, and create win-win relationships especially important in challenging times, such as the one we find ourselves in today. If you have built your "reputation bank account" much earlier, you should be able to leverage on the "deposits and interest accumulated", and many businesses we see operating now are those who were able to establish the supply chain faster and better – because of a network built over the years.
Start building your network now.